MEDICAL GRADE PEELS, FACIALS AND MASKS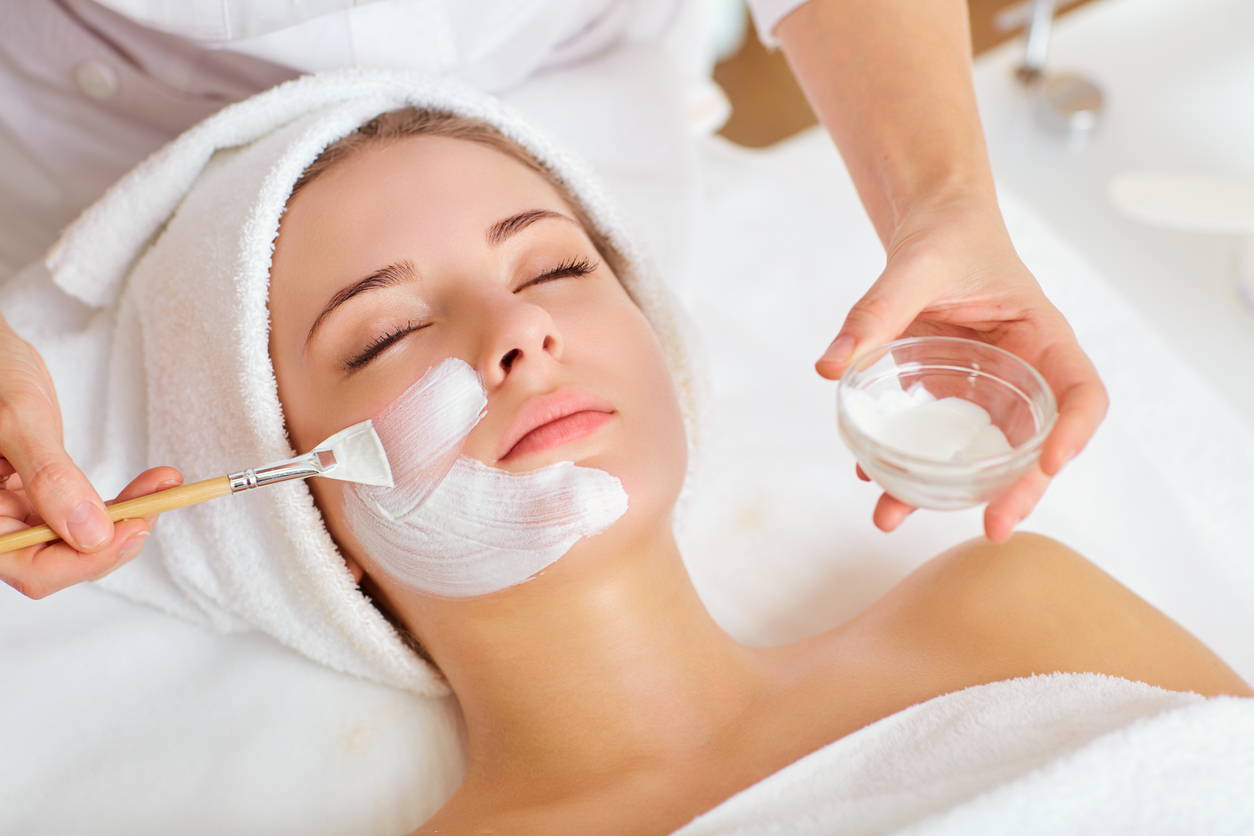 medical grade peels, facials and masks
Medical grade peels, facials and masks are a popular and relaxing treatment choice to address complex skin damage that has accumulated over time.
Our topical treatments are full of antioxidants, vitamins and peptides that deeply exfoliate and rehydrate the skin improving its texture and overall appearance.
At The Skin Philosophy we believe in taking the time to consult you on the best type of topical treatment to match your skin type. It is important the correct active ingredients are applied to your skin to ensure optimal, maximised and safe results.
Our range of peels, masks and facials can effectively combat sun and age spots, fine lines, wrinkles, pigmentation, shallow acne scars, acne, uneven skin tone and dull skin.
The main ingredient in this peel is Vitamin A, the powerhouse of anti-ageing.
This intense peel promotes cell regeneration, dead cell turnover and sloughs dead cells off the skins surface.
Following the peel your skin will appear brighter and more refreshed.
Over time and with regular treatments you will also notice a reduction in fine lines and blemishes.

The main ingredient in this peel is Glycolic Acid.
Using a mix of powerful active ingredients Brightening Peel helps to diminish dark spots and correct uneven complexion.
For maximal results we recommend 6 sessions spaced out by 30 days.



Antioxidant Vitamin C Peel
This peel uses a super combination of pigment inhibitors, vitamins and enzymes.
It is designed to deeply exfoliate your skin, unblock pores and brighten your complexion.
Your skin will look maximally revitalised in 4-6 treatments and we recommend 3-4 weeks between each treatment.
It is suitable for all skin types including those with sensitive skin.

This peel uses a combination of rich antioxidant blueberry extracts as well as stimulating Lactic Acid.
Together this mix of refreshing ingredients gently exfoliates the epidermal layer improving congestion and that feeling of rough skin.

Dead cells from the surface of your skin are removed revealing the fresh, brighter skin beneath.
Following this peel you can expect:
- Instant glow

- Smoother skin

- Improvement of mild acne
- Decongested pores
The Blueberry Smoothie Peel is great before a special event!
The main ingredients in this peel include L-Ascorbic Acid (Vitamin C) and encapsulated Retinol AGP complex.
This combination of potent active ingredients helps aid the delivery of nutrients and anti-oxidants to the deeper layers of the skin.
It is a metabolic peel that helps resurface, correct and protect the skin.
Benefit Peel works from the bottom-upwards evoking an organic skin renewal and cell regeneration process.
This peel will strengthen, brighten and positively remodel your skin.
It is a fantastic option for sensitive skin, redness and rosacea skin types.

The main ingredient in this peel is 30-40% Retinol AGP.
The Vitamin A penetrates much deeper than traditional ingredients thereby allowing it to address concerns such as melasma, hyperpigmentation and deeper lines which form in the dermis.
The Vitamin A is potent and can help regulate excess pigment production, cell function as well as exfoliate the skin.
It is a super age-defying peel that will hydrate, smooth and restore healthy skin.

These peels use a unique combination of herb and acid-free ingredients.
The marine-based ingredients penetrate deep into the epidermis triggering cell renewal and regeneration.
The Mini or Deep Sea peel is great for those with little time on their hands and who want a dramatically visible rejuvenation result.
You should expect 6-10 days of skin peeling with the Deep Sea Peel.
The Mini Sea Peel will also cause mild erythema for upto 3 days. This can easily be covered by makeup.

This peel uses Salicylic Acid and has great antiseptic and anti-inflammatory properties making it a great choice for combating post acne blemishes, pigmentation, large pores and dull skin.
It reduces the activity of sebaceous glands (oil producing glands) reducing the oily texture of skin as well as minimising pores.
Salicylic Acid Peel is suitable for all skin types and can be used to promote a fresher, brighter, softer skin complexion.

This peel uses Glycolic Acid which acts to effectively break the bonds in skin cells encouraging them to slough off.
Glycolic Acid can penetrate the deeper layers of the skin making it a brilliant choice for addressing acne, blemishes, fine lines, melasma, hyperpigmentation and sun spots.
Your skin will be intensely exfoliated, appear brighter and smoother.
This peel is compatible with sensitive skin but the strength will need to be adjusted based on your skin type.

A two-step, medical grade, in-clinic treatment that delivers a boost of oxygen directly into the skin and is safe for all skin types.
Benefits:
Targets acne, lightens pigmentation, heals and soothes skin post-surgery, laser or peel, sanitises the skin making extractions and debris removal easier and resulting in a reduction of acne breakouts.
Acai Berry Lactic/ Glucan Peel
A liquid gel formula that combines Alpha-Hydroxy Acid (AHA), Lactic and Malic Acid with Beta-Glucan and antioxidants.
This peel accelerates the removal of the top layer of skin, and produces a younger, more vibrant skin tone.
Benefits:
Exfoliates stratum corneum; stimulates basal cell renewal; antioxidant benefits of Resveratrol, Acai Berry and Green Tea; anti-glycation; increases natural moisture factor; leaves skin glowing, smooth and plump.
This peel contains the power of Lactic Acid to give skin a hydration boost and to visibly enhance the appearance of your skin.
This peel targets fine lines, wrinkles, pigmentation and dullness.
It comes in three different strengths (20%, 30%, 40%, 60%) which we carefully select based on your skin condition, level of skin preparation and sensitivity.

This is a gentle epidermal treatment that decongests pores for clearer, healthier-looking skin.
Purity Peel includes key ingredients AGP Retinol Complex, Salicylic Acid, L-Lactic Acid, L-Mandelic Acid, Pyruvic Acid, Ferulic Acid, Zinc making it perfect for blemish-prone skin, oily skin and enlarged pores.
SOME OF OUR CLEANSING PRODUCTS