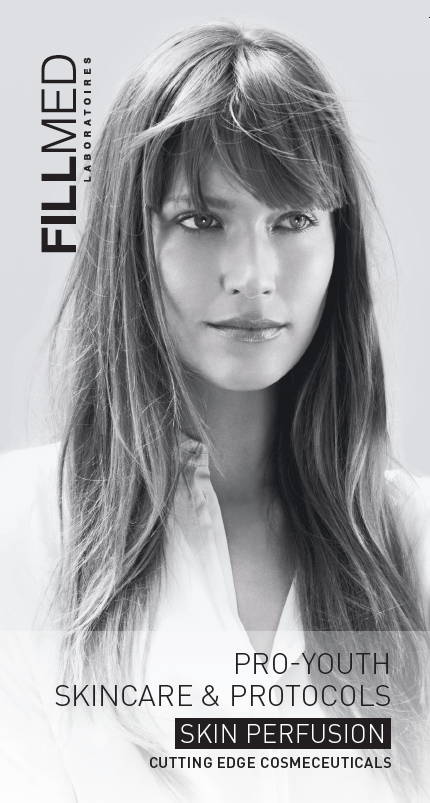 360 SKIN REJUVENATION PROGRAM
COMPLEMENT COSMETIC PROCEDURES
Developed by a French laboratory leading in cosmeticmedicine and skin quality, SKIN PERFUSION is an innovativecosmeceutical range especially designed to maintain andenhance the results of cosmetic procedures.
HIGH PERFORMANCE SOLUTIONS
Formulated with high-grade ingredients in optimalconcentrations, SKIN PERFUSION products are based onthe Mix'n Match principle to achieve the best visible resultson skin appearance and to best fit the needs of each skinthrough tailor-made solutions.
HOLISTIC APPROACH TO THE SKIN QUALITY
Combining in-office and home treatments, SKIN PERFUSIONallows a holistic treatment of ageing skin. The specificprotocols combine superficial peels, micro-needling andprofessional skincare to address the concerns of ageing skin:hydration, radiance, wrinkles, firmness and blemishes.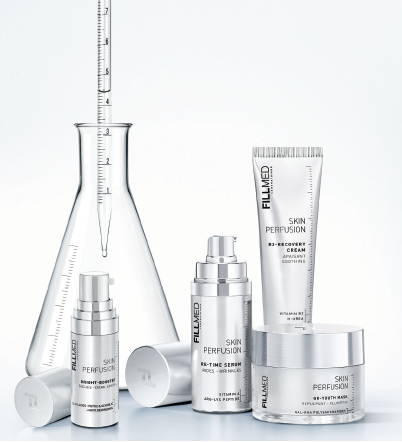 TO PURIFY COMPLEXION AND REFINE SKIN TEXTURE

CLEANSING OIL 200ml
Cleanses - Hydrates - Protects
This cleansing oil effectively removeswaterproof make-up from the face, eyes and lipsleaving the skin perfectly clean and comfortablewithout any tightness. Apply directly into dryface, massage, add some water to emulsify.
Rinse with water.
KEY INGREDIENTS:
■ Gentle make-up removing agents
■ Complex of soothing oils
MICELLAR WATER 200ml

Removes make-up - Cleanses - Soothes
Ideal for sensitive skin, this micellar waterremoves make-up from face, eyes and lipsleaving the skin perfeclty cleansed & refreshedwith an instant cooling effect. Apply with acotton pad. No rinse.
KEY INGREDIENTS:
■ Complex of 3 gentle surfactants
■ Niacinamide

■ Moisturizing agents


TO PURIFY COMPLEXION AND REFINE SKIN TEXTURE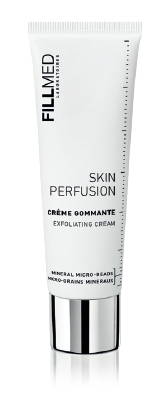 EXFOLIATING CREAM 50ml
Exfoliates – Purifies
This micro-polishing cream provides a mechanicalexfoliation of the dead cells on the skin surface.With a controlled exfoliating action, this creamstimulates cells in the basal layer beforereactivating the cell regeneration process.
KEY INGREDIENTS:
■ Micro-polishing beads
■ Complex of 3 surfactantsPERFECTING

PERFECTING SOLUTION 100ml
Clarifies complexion – Smoothes – Prepares
This lightweight solution is formulated withgluconolactone a gentle acid, that exfoliates deadcells, smoothes the texture of the skin, reducesirregularities and leaves the skin fresh and clear.
KEY INGREDIENT:
■ Gluconolactone 0,5%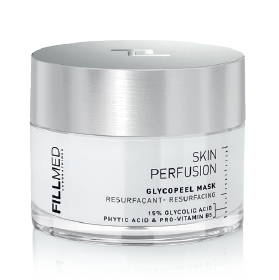 GLYCOPEEL MASK 50ml
Resurfaces – Exfoliates – Smoothes
Designed to combat dull complexions, fine lines and blemishes, thisrevolutionary resurfacing mask restores tone & radiance to revealyounger-looking skin. It combines highly concentrated Glycolic acid(15%), which delivers powerful exfoliation, with Phytic acid (2%) for aflawlessly even complexion. A gentle soothing complex also ensurescomfort for sensitive skin.
KEY INGREDIENTS:
■ Glycolic acid 15%
■ Phytic acid 2%
■ Soothing complex